Breast Augmentation Birmingham
What is augmentation and breast enlargement?
Facts and information for those considering surgery
Breast enlargement (also known as breast augmentation) is an operation to increase the size of the breast by inserting an implant – people often refer to this as a 'boob job'.
Who does the operation help?
Women choose to have a breast enlargement for lots of different reasons – they may always have been small-busted or perhaps their breasts have lost size over time, due to pregnancy or weight changes.
Whatever the reason, women can have bigger, fuller breasts with a breast enlargement or breast lift operation.
I perform breast augmentation in a number of Birmingham hospitals including West Midlands, Southbank and Nuffield.
Whatever the reason, women can have bigger, fuller breasts with a breast enlargement operation.
What kind of breast augmentation implants should I choose?
There are two breast augmentation implant types – silicone and saline (salt water).
Both use an outer shell made from silicone.
Silicone implants are filled with thick silicone gel

Saline implants are filled with salt water
I prefer to use silicone implants because they feel more realistic and give more options because they're available in round and teardrop shapes:
Round implants are ideal if you have plenty of breast tissue

Teardrop implants give a better shape if you have very little breast tissue
Read more about silicone implants on my sister website.
What size breast implants should I have?
Most patients already have an idea of how they want their breasts to look.
I always spend plenty of time listening to your thoughts, talking through different options and helping you visualise how your new breasts will look using different styles of implant inserted into a special lycra top. I take accurate measurements of your chest wall to make sure the implant you choose is right for you. Only then do we agree exactly which implants to use.
Breast augmentation has some limitations you should be aware of.
If your breasts have always been small, this will limit the size of implant you can choose before the enlarged breast starts to look 'enhanced' or worse still, you get that 'stuck-on', obviously fake look.
If you have lost a lot of breast tissue, you may need quite a large implant to regain fullness, but this can result in more, rather than less, droop. A better option in this situation may be to choose a smaller implant and have a breast uplift at the same time.
How is the operation done?
Breast enlargement is done under a general anaesthetic, so you will sleep through the whole operation.
Through my years of experience, I believe the best method is to insert the implant through a small cut under the breast area. This also gives the most natural results.
You can find out about alternative breast surgery methods.
What else affects the way my breasts will look?
Implants can be put behind or in front of the breast muscle.
I put implants in front of the muscle wherever possible as this gives a more natural look.
In patients with very little breast tissue, I put the implants behind the muscle, so the edge of the implant isn't visible on the skin.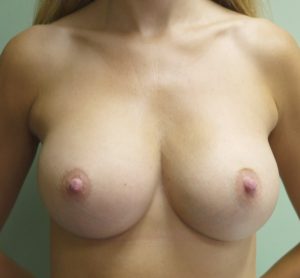 In front of the muscle
Subglandular augmentation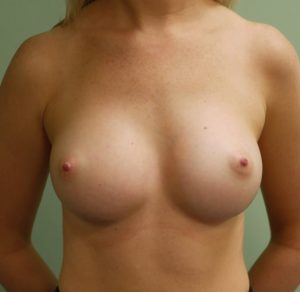 Behind the muscle
Submuscular augmentation
Both Subglandular and Submuscular implants can create a very natural breast. The key disadvantage to submuscular implants is that the muscle can pull the implant upwards and outwards causing an abnormal movement of the breast, which many women dislike.
An example of abnormal breast movement seen with submuscular implants
How will you make sure my breasts match?
Nobody ever has exactly symmetrical breasts, but I do take the utmost care to achieve as much symmetry as possible for all my clients.
Very occasionally a breast augmentation implant may move after the operation, making the new breasts uneven. This can sometimes be put right with massage you can do yourself, but you may need to come to the theatre to have the position of the implant adjusted.
How long does the operation take?
Breast enlargement operations in one of the listed Birmingham hospitals usually take about 60 minutes.
Will I need to stay in the hospital?
Most patients come to the hospital on the morning of surgery, have the operation and go home the same day. Some patients prefer to stay in overnight.
A drain is rarely required, but if it is, it will usually be removed the following morning and you can go home.
How will I feel when I wake up?
Everybody's pain threshold is different, so I can't tell you how painful or otherwise you will find the operation. But, most people are surprised by how comfortable they feel when they wake up.
You will probably feel some pain – especially when you move – but you'll be given painkillers to keep you as comfortable as possible.
You should bring your sports bra to the theatre when you come for your operation. The nurses will put this on before you wake up and you should continue to wear it for the first six weeks after your operation.
What happens after the augmentation operation?
We will give you plenty of information on what you can and can't do after your op, as well as advice on looking after the wound, bathing and exercise. Please read this carefully and if you have any questions, ask one of the nurses before you leave the hospital.
As a guide, you will need to take two weeks off work and avoid the gym for six weeks after surgery. You should also avoid driving for two weeks.
I will close your wound with buried, dissolvable stitches and dress it with a medical grade 'superglue', which means you can bath or shower at any time after surgery.
You will see my nurse for a wound check one week after your operation. I will see you for a check-up six weeks after your operation and again after six months for a full review.
If you have any questions or problems after your operation, you can call and speak to a nurse or doctor at the hospital at any time. They will contact me if necessary and we will discuss any concerns you may have before deciding on any treatment required.
Are there any risks?
There are potential risks with any surgery, but breast enlargement is by and large a safe operation. There are some specific issues to be aware of, including changes in nipple sensation, unusual scarring, bleeding and infection. In extremely rare cases, an implant can rupture and will need to be removed in theatre.
Breast implant registry
Everyone who has a breast enlargement operation in England can now have their breast implants recorded on a national registry. This registry is designed to capture all breast implant surgery carried out, so patients can be traced if implants ever need to be recalled and removed.
Find out more about the breast implant registry.
ALCL –

Breast Implant-Associated Anaplastic Large Cell Lymphoma

You may have heard about something called anaplastic large cell lymphoma – you can find out more here.
Mr Guy D. Sterne
MB, ChB, FRCS, MD, FRCS (Plast)
Consultant Plastic Surgeon